Release bearings link the rotating diaphragm to the actuation system on the transmission side. The release bearing is mounted on a carrier which slides on the gear box front bearing retainer tube. The release bearing assembly is actuated via the throw-out fork or via the concentric slave cylinder. The release bearing is an angular contact thrust bearing; filled with grease requiring no further lubrication during its service life.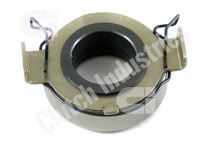 PULL-TYPE RELEASE BEARINGS
Unlike a standard push-type bearing a release bearing in a pull-type bearing is designed to pull the diaphragm springs. The connection of the bearing to the diaphragm comes from a pre-tensioned snap ring which engages with the diaphragm after installation. If the snap ring is activated before installation the bearing cannot be installed onto the diaphragm. During installation the release bearing is fitted to the fork which is installed onto the transmission. Once the transmission is installed the release bearing can be located into the diaphragm by hand by applying force in the
opposite direct to the slave cylinder.
Note: For removal pressure needs to be applied between the locking ring and the bearing, a flat blade screw driver can be used for this.