1. HANDLING OFTHE NEW PRODUCT
On removing the CSC from the box, do not compress the cylinder by hand to replicate the bearing movement. By compressing the cylinder in this way the increased air pressure can cause the illustrated damage. Also, as the chamber is not pre-filled with hydraulic fluid, then damage will be caused to the internal seals due to excessive friction on the return stroke.

2. ENVIRONMENT
The area in which the CSC is positioned needs be totally clean & free of debris. It must locate cleanly and squarely on to the gearbox case and any rubber face seal or sealant is used in accordance with the manufacturer's instructions.
3. FITTING
GENTLY slide the CSC over the gearbox input shaft and slightly rotate it to ensure the correct location on the gearbox case. Torque down evenly the fixing bolts using between 8-12Nm dependent upon manufacturer's specification.
4. HYDRAULIC CONNECTIONS
There are two types of connector;
Traditional screw in
Quick clip connector which is more common
With the traditional type, tighten the screw using a torque of between 10-15Nm dependent upon manufacturer's specification.
The quick clip connecter is released by either pulling or pushing the retaining clip, dependent upon type.
5. BLEEDING (PURGING)THE SYSTEM
Before attempting to purge or operate the clutch, ensure that the gearbox is fully located in the fitted position.
Bleed the system as per the manufacturer's instructions. Do not rapidly depress the pedal as this can damage the CSC end seal.
Note: Many CSC's do not have bleeding ports or screws
making bleeding difficult after installation. In these cases the below procedure can be followed;
Connect the CSC to a hose and place the end of the hose in a container of brake/clutch fluid.
Gently slide the release bearing back and let it return slowly
Repeat until no air comes out of the pipe
Remove pipe and install CSC as per manufacturers instructions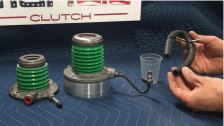 Note: Clutch Industries does not recommend the use of power bleeding systems, as some systems runa high air pressure. This can invert or roll the internal seal resulting in immediate fluid loss.