WHAT CAUSES MISALIGNMENT?
Missing or damaged dowel pins allowing the transmission to be bolted off centre.
Mislocated front bearing retainer.
Foreign matter between the engine block and the transmission mounting faces.
Missing or worn pilot bearing.
Broken block flange.
Damaged/broken mounts.
WHAT ARE THE SYMPTOMS OF MISALIGNMENT?
Pedal graunch with the engine running.
Deterioration of the clutch until non-release occurs.
Failed drive plate.
Red dust covering clutch and/or groove worn in the diaphragm by the release bearing.
HOW DO I PREVENT MISALIGNMENT?
Whenever you are replacing a clutch, inspect the old components. If misalignment is present you will need to find the cause.
Inspect all dowels and dowel holes for condition.
Inspect release bearing guide and replace if necessary.
Clean all mating surfaces.
Inspect block flange for damage.
How to check for engine/transmission misalignment;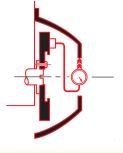 STEP 1
Mount indicator to flywheel and determine concentricity of bell housing bore to centre line of crank rotation, SPECIFICATION: 0.15mm max, T.I.R.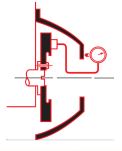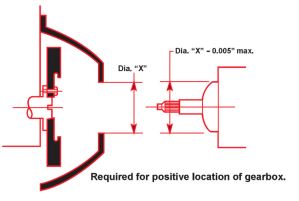 STEP 2
With indicator still mounted to flywheel ensure rear surface of housing is square. SPECIFICATION: 0.15mm max, T.I.R.
REMEMBER – IF MISALIGNMENT IS PRESENT, FITTING A NEW CLUTCH KIT WILL NOT FIX THE CAUSE OF THE PROBLEM AND THE MISALIGNMENT WILL QUICKLY DESTROY THE NEW.