VIBRATION DAMPER
Hydraulic vibration dampeners are used after the clutch master cylinder to prevent the transmission of vibrations in the hydraulic lines. It uses either
membrane dampers or anti-vibration units with two non-return valves.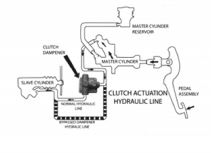 The dampening unit can sometimes malfunction which causes issues selecting gears. To troubleshoot this bypass the damper unit with a direct line from the master cylinder to the slave cylinder, if release occurs the clutch dampener is faulty and should be replaced
PEAK TORQUE LIMITER
Peak torque limiters restrict the fluid to the slave cylinder; this is designed to prevent damage to the clutch and the Dual Mass Flywheel in the event of the clutch being release too quickly
SLAVE CYLINDER
In a semi-hydraulic system the slave cylinder is located outside the bell housing and is used the active the release fork (applicable
for both push and pull clutch systems).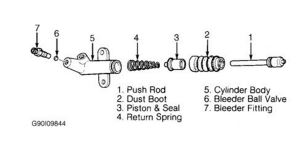 CONCENTRIC SLAVE CYLINDER (CSC)
Fully hydraulic systems are equipped with a concentric slave cylinder mounted in the bell housing. The CSC consists of a ring-shaped hydraulic cylinder with a built built in release bearing.